Welcome to the Mission Hills High School Music Boosters Website. 
Next Booster Meeting on February 19th, 6:30pm

Please come and join us and find out what the Music Program has planned for the upcoming months.  The next Booster meeting will be held in the Band Room on February 19th in the Band Room.  Everyone is welcome to these  meetings.  Since we have so many senior parents leaving this year, we need more freshman and sophomore parents to join in with the planning for the future.  We will be discussing plans for the upcoming months and begin looking for parents to help in the coming year.  If your child enjoys the program, how about coming out and help, so they can enjoy it even more.  We hope to see you at the meeting.
GBEF Bowl-A-Fundraiser on March 10th at Eagle Bowl
The Grizzly Boosters Educational Foundation is planning their first big fund raising event. The first Annual GBEF Bowl-A-Thon will take place on Monday March 10th, at 6:00pm, at Eagle Lanes in San Marcos. This event is planned to raise money to cover the expenses of the organization and to provide funds to the clubs, groups and sports teams that all benefit from the parent non-profit organization. GBEF is the parent non-profit for all of the booster organizations on campus. Without them, each and every group would have to file for non-profit status and have to cover the costs of their own insurance, accountant and other fees. We need Bowlers and Pledgers. The Bowlers will have a $25 fee plus raise a donation of $100 or more from family, friends, neighbors, co-workers or anyone else you can think of. The Pledgers need to raise pledges of $25 or more. We need 200 Bowlers and 200 Pledgers to make this a success. Down load the flyer here in English and here in Spanish.  Hurry up and sign-up to help GBEF so they can help us.  Follow the Bowling Pin Link below to go to Sign-up Genius to sign up. 
Barney and the Rest of the Barnett's Need Our Support
Richard "Barney" Barnett, a past Booster member and a great friend to all that know him, was in a boating accident on January 1st.  He is in the hospital defying the dire predictions of modern medicine.  Barney and Diane were very involved with the Music Department before their son Nick, graduated in 2012.  For those of you that know Barney and would like to know more about his recovery, they have set up a website where you can keep up with his progress.  Please check it out at:  http://www.caringbridge.org/visit/richardbarneybarnett.  Please add him and his family to your prayers and well wishes.  Barney we wish you the very best and a speedy recovery.
Band Wear is Still Available

The MHHS Music Boosters and Hawaiiana are proud to offer band apparel for you and your student!  Show your support with a pullover or zippered hoodie, sweatpants, flannel pants, t-shirt, polo shirt, beanie, baseball cap, or blanket.  Most embroidered items can be personalized for an additional fee.  $5 of every item sold goes back to the band program.  Just fill out the order form and have your student drop it off with your payment in the Booster mailbox in the band room.  We accept cash, check payable to "Hawaiiana", and credit cards.  Band Wear Order Form

Orders will be filled within 2 weeks of receipt, often sooner.  Contact Vyrna Romek to place and/or pick-up your order.  She can be reached at leialoha4iesu@gmail.com or by cell at 760-213-0350.
It's Time to Volunteer to help at Music Department Events

We are doing something a little different this year for volunteer signups.  We are using a web site, www.signupgenius.com for all volunteers to sign up for the events that they would like to help with.  Dave Paulus has set this up with all of the home games and is now accepting volunteers.  It is easy to do.  Just click on the icon below or on the Volunteer Opportunities page and you will go the the SignUpGenius site to complete the signup.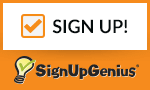 Get pictures of your Cardinal Alliance Member NOW!!!

We have a photographer among us. David Taylor has been taking photos of the band and color guard since the summer band camp started in August. This includes practices, football performances and the field competitions. He has given a lot of his time to taking and processing all of these pictures and now they are available to all of the parents and family of the students. He has a website,
davidgtaylor.smugmug.com
, and has made the pictures available a small fee. The prices range from $2.00 for a 4 x 6 print, $5.00 for an 8 x 10 and on up. There are too many options to mention here. The best part, is that Dave is donating all proceeds from the sale of the photos to the music program. That's right, ALL proceeds come back to the students. Order your pictures now and create a special holiday gift for your band or color guard member today.
We need help from Freshmen and Sophomore Parents
The members of the Boosters that have been very active for the past couple years are now the parents of seniors.  Next year when they leave, there will be a large hole in the Booster organization.  We need the parents of underclassmen to come out and give us a hand.  Work with us this year and learn the ropes so that you can continue the work we started.  The Band and Color Guard can not function without the help of the parents.  
Because there is a lag between eScrip month-end reporting and the check receipts at VDEF, eScrip contributions will no longer appear on Program Support statements until checks are received and posted by VDEF.  Unfortunately, the delays may be up to 5-6 months.



If you have any questions, concerns or comments for the Boosters, you can find some names, titles and email addresses on the Officers page. If you aren't sure who to contact or if you have questions, comments or concerns about the Web Site, please feel free to send an email at
webmaster@mhhsband.info
and I will get an answer for you.
-------------------------------------------------
Students please check the Student Section for the Student Handbook and the Medical Clearance Form.
-------------------------------------------------

For new and returning students and parents.
The following documents will provide new students and parents with information about the band program for the upcoming school year. There is a lot of good information here to answer your questions about what is ahead. For the returning students and parents it is a good refresher.
MHHS Band Frequently Asked Questions
New Parent Information
-------------------------------------------------

Want to become a Member of the support "CREW"?
Check out
VOLUNTEER CENTRAL
!
Everyone is Welcome!