Welcome to the Mission Hills High School Music Boosters Website. 
> Athletic Clearance Package
All Marching band students must turn in a completed medical clearance form before the summer band camp.  The Athletic Clearance Package 2014-15 can be download  from
[ HERE ]
or the main
MHHS website
. 
Sports Physical night is Thursday, June 26th at 6:00 pm. Please check out the Athletic Training page on the MHHS website.  For more information check out the MHHS website.  

> Next Booster Meeting on Aug 6th, 6:30pm
The next Booster meeting will be on Wednesday, Aug 6th.  As always the meeting will be at 6:30pm in the Band Room.  We will be talking about the events that are coming up for the rest of the year and about some of the goals for next year. 

Remember that everything the band and color guard are involved in, doesn't just magically happen.  There is a lot of work that has to be done to make this program successful and fun for our kids. 


> Band Camp Starts Aug 11
This years camp will run for two weeks. It will be Monday - Friday 1:00pm to 9:00pm (both weeks Aug. 11-15 & 18-22). Also Saturday (8-16) 8:00am to 12:00pm (That day will be for the ROI fundraiser. This day is considered part of band camp) There will be a dinner break at 5:00pm. Students are not allowed to leave the campus for dinner.

Boosters will offer meals each week for $30 per week per student or you may send/bring food for your student. Meals must be prepaid with payment due on the first day of band camp. We need volunteers to help pick-up food and/or serve our students. Donations of finger jello, cookies or other desserts is always appreciated.



> Special School Registration for all band students
Tuesday Aug 12 between 9:00am and 11:00am. This time has been set aside for the band students Only. starting at 11:15am other sports teams will be allowed to register. So be there early, if you are going to preregister.


(Wow! This is a new option for us in 2014)
> The "Nightmare" marching band show t-shirts are available for purchase

The MHHS Music Boosters and Hawaiiana are proud to offer the "Nightmare" shirt and shorts for sale as separate items.
Band Wear Order Form
> It's Time to Volunteer to help at Music Department Events

We are doing something a little different this year for volunteer signups.  We are using a web site, www.signupgenius.com for all volunteers to sign up for the events that they would like to help with.  Dave Paulus has set this up with all of the home games and is now accepting volunteers.  It is easy to do.  Just click on the icon below or on the Volunteer Opportunities page and you will go the the SignUpGenius site to complete the signup.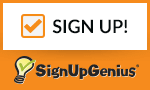 > We need help from Freshmen and Sophomore Parents
The members of the Boosters that have been very active for the past couple years are now the parents of seniors.  Next year when they leave, there will be a large hole in the Booster organization.  We need the parents of underclassmen to come out and give us a hand.  Work with us this year and learn the ropes so that you can continue the work we started.  The Band and Color Guard can not function without the help of the parents.  
> Ralphs and Vons (eScrip) Gift Cards

Because there is a lag between eScrip month-end reporting and the check receipts at VDEF, eScrip contributions will no longer appear on Program Support statements until checks are received and posted by VDEF.  Unfortunately, the delays may be up to 5-6 months.




If you have any questions, concerns or comments for the Boosters, you can find some names, titles and email addresses on the Officers page. If you aren't sure who to contact or if you have questions, comments or concerns about the Web Site, please feel free to send an email at
webmaster@mhhsband.info
and I will get an answer for you.
---
Students please check the Student Section for the Student Handbook and the Medical Clearance Form.


---
For new and returning students and parents.
The following documents will provide new students and parents with information about the band program for the upcoming school year. There is a lot of good information here to answer your questions about what is ahead. For the returning students and parents it is a good refresher.
MHHS Band Frequently Asked Questions
New Parent Information
---
Want to become a Member of the support "CREW"?
Check out
VOLUNTEER CENTRAL
!
Everyone is Welcome!